Regular price
Sale price
$40.00 USD
Unit price
per
Sale
Sold out
This hardcover volume from the Instituto Moreira Salles  is a unique and impressive piece of work: a selection of 67 scores of choros by the virtuoso composer and multi-instrumentalist Aníbal Augusto Sardinha, commonly known as "Garoto" (1915-1955).
Arranger and composer of more than 200 works, including waltzes, sambas, boleros and, mainly, choros, the multi-instrumentalist Garoto became famous in the 1940s, when he headed up two programs on the then-competitive Rádio Nacional: Garoto e Seus Mil Instrumentos and Garoto e Seus Solos. He also played alongside prominant artists such as Carmen Miranda, Dorival Caymmi, Ary Barroso, Francisco Alves, Silvio Caldas, Luiz Gonzaga, Orlando Silva, and Aracy de Almeida.
A member of the famous Orquestra Brasileira, conducted by his neighbor and partner in choro circles Radamés Gnattali, Garoto was an innovator among choro composers, introducing intricate harmonies and tonalities along with elements from North-American music, all while staying true to the genre.
The scores that make up Choros de Garoto were collected and rewritten by musicians Henrique Gomide and Domingos Teixeira. The book includes a biographical profile of the artist, written by Jorge Mello, who organized the publication alongside Gomide and Teixeira, and a preface by musician Paulo Bellinati. (All text is in Portuguese.) The scores were reviewed by the technical staff of the Insituto Moreira Salles and are presented in lead sheet format (concert C.)
IMS is known for producing high-quality products and this volume is no exception, But take note: they are also known to allow their excellent works to go, and remain, out of print. If you are interested in the work of this singular composer and virtuoso musician, we'd suggest you purchase this volume while we have access to it.
Share
View full details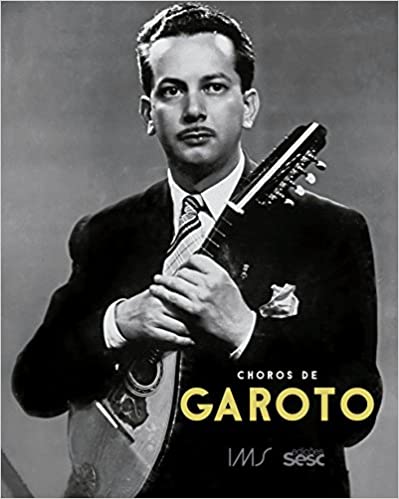 How else can we help?

Need a cavaquinho, bandolim or 7 string guitar? How about strings, or digital lessons? Be sure to check out the rest of the Choro Shop for other useful resources, then join us at Choro Camp New England in late June. We look forward to making this beautiful music with you!

About Shipping and Returns

We ship UPS or USPS, promptly. Our stress-less return policy: You can return any Choro Shop book for up to 3 days from its delivery date for a full refund of all but the cost of shipping. So go ahead -- try it!