Regular price
Sale price
$36.00 USD
Unit price
per
Sale
Sold out
If you are just starting your collection of choro songbooks we suggest you start with the "Choro Songbook" series. If anyone attending a "roda" (as a choro jam session is called) is leaning on written music, chances are these are the books they are leaning into.

The series consists of three volumes, all worth having. You can buy them here in the Choro Shop individually or as a 3-volume bundle (at a reduced price, per volume.) The treatment of each tune includes the melody, chord progression and suggested bass lines (baixarias), most commonly played on guitar.
This first volume, in addition to almost 100 tunes by many of the best known choro composers, also has several introductory essays and interviews (in both Portuguese and English) that place this music and its most important figures in context.

Tunes include: Aguenta Seu Fulgêncio, Apanhei-te cavaquinho, Assanhado, Atraente, Atraente, Beliscando, Canarinho teimoso, Carinhoso, Chorando pra Pixinguinha, Chorinho na gafieira, Cochichando, De Limoeiro a Mossoró, Dengoso, Desvairada, Displicente, Doce de coco, Espinha de bacalhau, Eu quero é sossego, Feitiço, Flor amorosa, Garoto, Implicante, Inesquecível, Mimosa, Murmurando, O vôo da mosca, Odeon, Os cinco companheiros, Quando me lembro, Remexendo, Rio antigo, Rosa, Sarau pra Radamés, Tira poeira, Um chorinho diferente and Urubu malandro.
Share
View full details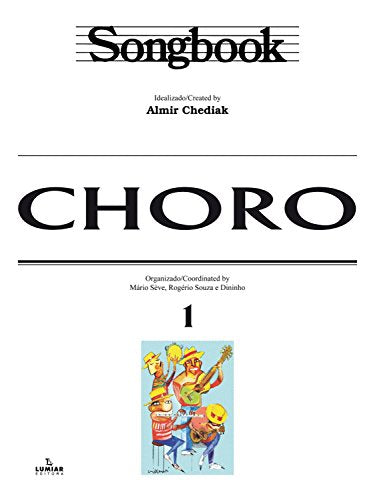 How else can we help?

Need a cavaquinho, bandolim or 7 string guitar? How about strings, or digital lessons? Be sure to check out the rest of the Choro Shop for other useful resources, then join us at Choro Camp New England in late June. We look forward to making this beautiful music with you!

About Shipping and Returns

We ship UPS or USPS, promptly. Our stress-less return policy: You can return any Choro Shop book for up to 3 days from its delivery date for a full refund of all but the cost of shipping. So go ahead -- try it!